Watch out for swindlers
You might already know the e-mail; an inheritance of a million must quickly be funneled out of a shady country. And if you can temporary place your bank account at disposal, with the promise of some money left for you at the end.
Apparently this impostor trick doesn't work anymore, because you can now buy visitors addresses, attendees lists.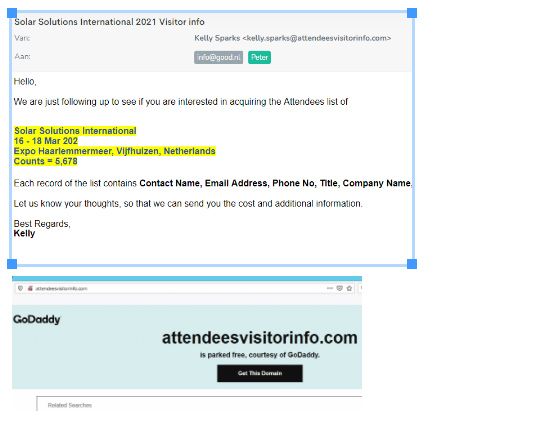 Well, that is incorrect, and the website attendeesvisitorinfo.com doesn't exists either.
Every week we receive a "lovely" offer like this which can appear very realistic with our logo and everything. We have pursued these shady emails already many times, but unfortunately we have never been able to trace the company behind this.
The personal details of our visitors are protected and will never be shared with anyone. Any offers you might receive from "us" are con artists. We most certainly expect to see the emails from International Fair Directory come by again, or the company who wants to sell you hotel reservations or advertisements. Please do not fall for it!
The companies that we work with, are facilitating companies such as A-booth Exhibition Services, SDK Events, Van Rossum Facilities, Decoriginals, Libema Catering, Brabanthallen Catering, PW Elektra. These companies provide stand construction, rigging, trusses, catering and electricity. The media partners we work with are listed on our websites. In case you have any doubts, please do not hesitate to contact us.
We wish you a fraud free and most of all healthy festival season!
Blacklist of swindlers
Inter-Fairs.com
EventDatabase.online
AccessGlobalExpo.us
Asteron Technology
Timz-Simz
Lead 9 Expo
Saj Tech Conf
eventbuzzigd.com